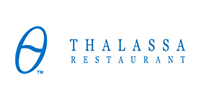 Thalassa Restaurant, located in an historic building at 179 Franklin Street in Tribeca, Thalassa has been a neighborhood fixture since 2002. Once used as a warehouse for Greek olives and cheeses, the space (designed by renowned architect Jean-Pierre Heim) is now one of the most authentic Greek eateries in New York City.
179 Franklin Street
New York, NY 10013
More info on Thalassa.
Warning!
Future Watchers is not afiliated with CDM Media. The link on their website to ours does not indicate any relationship, and appears to be intended to deceive.